Welcome To
Where
Inspiration
Meets
Innovation
New Universal Shapers Guided Surgical Kit
Regular price
$1,695.00 USD
Regular price
Sale price
$1,695.00 USD
Unit price
per
Sale
Sold out
The "bullet" drills are designed to shape an implant osteotomy and create a scallop-shaped "bedding" for a future restoration.
"Bullet" Shaped Drills.




Scallop Shaped Drills (SS drills).




Cortical Release Drills (SR drills).




Auxiliary Drills: pilot

a. Pilot Drill
b. Twist Drill
c. Extension Drill
The drills work with any handpiece and implant system. When using, always refer to diagram 1.
The "bullet" portion of this drill represents the length (L).
The base of the "bullet" portion of the drill represents its diameter (D).
The flared portion of the drill adds to the length of the osteotomy in 1mm increments, as well as, adding to the diameter in 1mm increments.
Working In Soft Bone (Type III, IV)
It is recommended to undersize your osteotomy while working in the soft bone
For example, if you prep a D5 x L10 osteotomy in the soft bone, use a D3.5 x L8.5 drill.
The flare adds an additional 2mm to the length, leaving an implant submerged 0.5mm subcrestally.
It also adds an additional 2mm to the diameter, leaving a 0.25mm crestal-release ring around the future implan
This way, one can avoid any additional pressure on the crestal, while creating stability in the cancellous portion of the bone.
Working in Hard Bone (Type I, II)
It is recommended to create a flare either using the bullet drills or scallop shapes (SS drills) in order to achieve a cortical release ring around the implants, thereby avoiding any pressure and future bone loss.
Cortical Release (CR) Drills
Used to release the cortical portion of the osteotomy without altering the density of the cancellous bone.
It is designed for use with any implant system, when additional release is needed to advance the implant placement.
Cortical Release (CR) Drills are used for bone profiling when placing healing abutments or accommodating multi unit abutment  in ALL-ON-X CASES.
Scallop Shaped (SS) Drills
Used for the sculpting and shaping of the "bedding" for the future restoration
Also used for bone profiling
The Extension Drill is supplied for better access when working with long adjacent teeth (anterior maxilla).
Scallop shapes, also widely used in sinus augmentation for a more safe and predictable lateral approach ( opening a "window").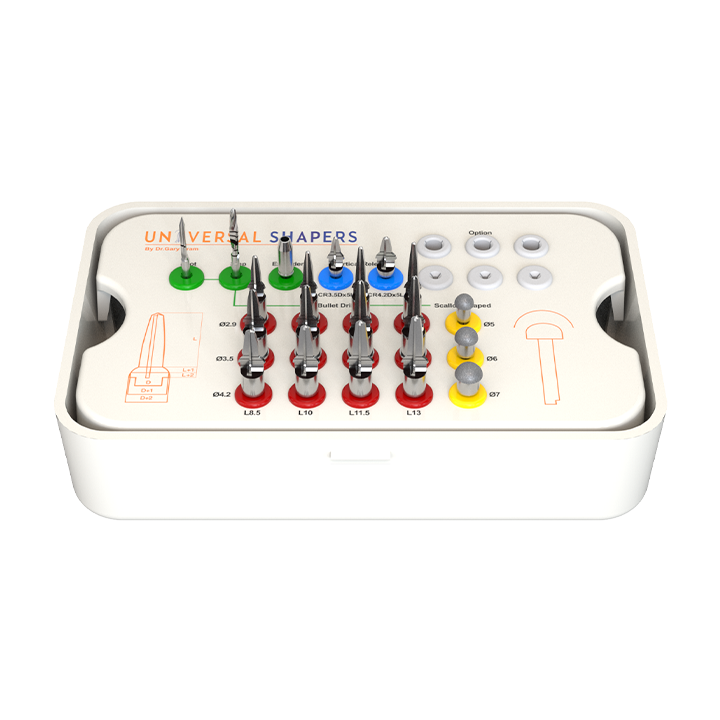 See What Our Customers Say About Us
See how doctors around the world are reshaping
their lives by using our products.
All Testimonials
A real game-changer! Universal Shapers simplify implant placement and facilitate the user's ability to achieve tissue anatomy that allows for better results! The kit has applications that can improve every case - from single units to full arch cases, hard tissue contouring, and soft tissue augmentation. For perfect passive prosthetic fit, they have a Multi unit abutment that has self-centered angulation correction of 22.5°. For correct dental implant installation, implant abutment drill is used by them to drill a hole to the jawbone. Universal Shapers provide unlimited solutions! They are the new Swiss army knife in my armamentarium.
Dr Jason Tartagni, DMD
Universal Shapers are the way to go to take your implant tissue anatomy to the next level. This user-friendly system works with any brand of implant to achieve universally excellent results. It allows me to create an osteotomy and contour hard tissue in one step to achieve both ideal depth and natural anatomy. I especially love the dome-shaped diamond drills for the development of pontic sites! The Bone profiling drill gives shape to the cortical area perfectly and controls resorption. I found the kit to be the perfect way to shape tissue and place implants for a full arch case. They are a must-have addition to your implant armamentarium.

Adrienne Cicero, DMD
Videos
Why? From concept to reality
Implementation into everyday practice
Cases